Delixi Bon Prix Variateur Vector Control AC Drive (RS485)
Description du produit
N ° de Modèle: E180 Type de sortie: Triple Type de commutation: Tuyau d'eau Tension d'alimentation: Variable-Frequency Drive basse tension Nature de la puissance DC: Voltage Variable-Frequency Drive Marque: Delixi Fréquence d'entrée: 50 / 60Hz Puissance: 0.4kw-630kw Mode de démarrage: Limite de courant / Tension / Délai de démarrage de la charge lourde: Peut être réglé numériquement Réacteur DC: Standard Emballage de transport intégré: Boîte en carton ou boîte en bois Origine: Hangzhou, Chine Application: Transducteur haute performance, Transducteur triphasé, Single- Principe de travail de transducteur de phase: V / F Type de circuit principal de circuit de transducteur: Liaison de tension de transformation: AC-DC-AC Variateur-Frequency Fonction d'entraînement: Couple constant Tension universelle de type: triphasé 380V Fréquence de sortie: 0 ~ 3200Hz Unité de freinage: interne Temps de démarrage et d'arrêt de l'unité de freinage: peut être réglé numériquement Arrêt d'urgence: Arrêt de la sortie du démarreur progressif Marque: DELIXI Spécification: CE Code SH: 8504409999 \ nDelixi Bon prix Fréquence Variateur Vector Control AC Drive (RS485) \ n \ nTél: + 8615700 190232 Mme Kira Lan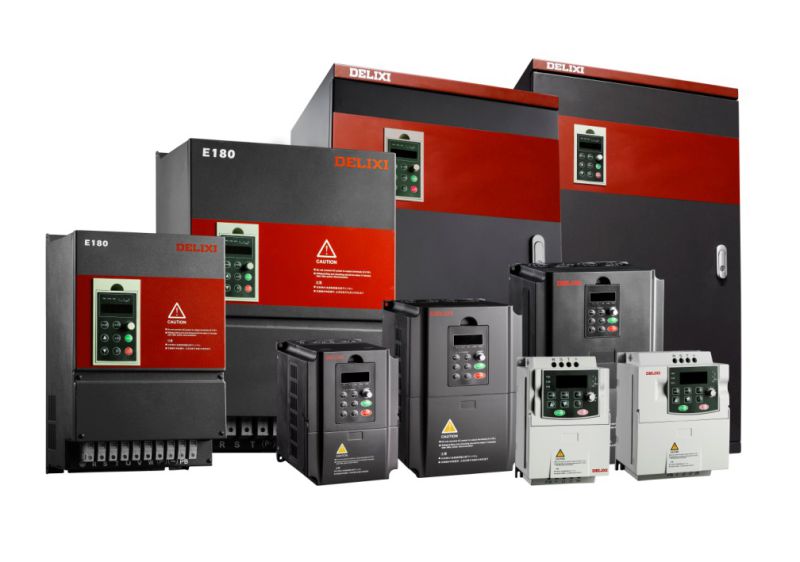 Caractéristique: 1. "Haute précision", "haute performance", "haute rentabilité". 2. Précision de contrôle élevée Réponse de couple 3.Rapid 4. Couple de démarrage élevé 5.Les commandes vectorielles variées de moteurs sont disponibles 6. Modes d'affichage de menu diversifié 7.Fonction de temporisateur intégré 8. Relais de temporisation virtuel intégré 9. Fonction du module de fonctionnement intégré 10.Fonction du limiteur de courant rapide 11.Excellente capacité du contrôle de la commande de puissance \ nProduits: \ n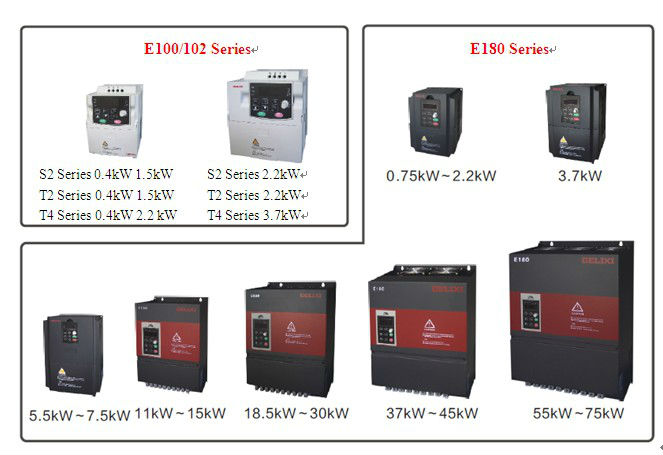 \ n \ n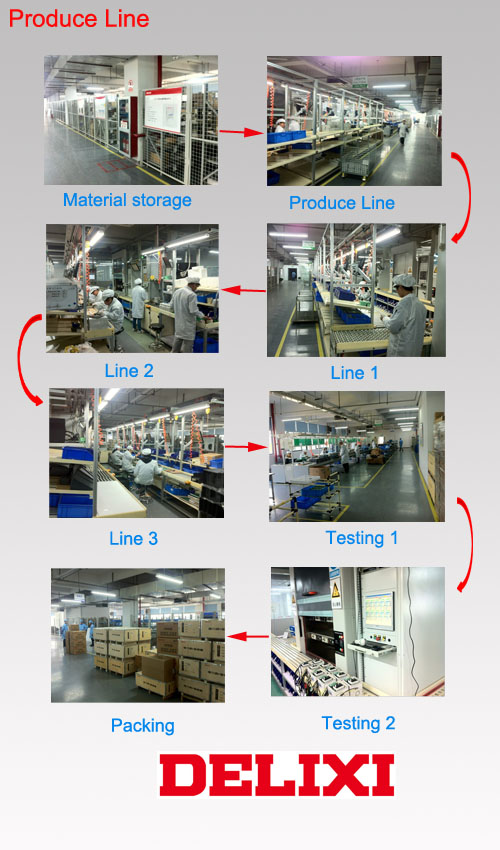 \ nListe de modèles: \ n
Series No.
Model
Rated Capacity
(kVA)
Rated Input Current
(A)
Rated Output Current
(A)
Adaptive Motor
(kW)
Brake Unit
DC Reactor
LCD Keyboard
E100/E102 Series
S2 (Single-phase220V, 50/60Hz)
CDI-E100G0R4S2B
0.8
5.0
2.0
0.4
Standard Built-in
N/A
N/A
CDI-E100G0R75S2B
1.5
9
4.0
0.75
CDI-E100G1R5S2B
2.7
15.7
7.0
1.5
CDI-E100G2R2S2B
3.8
27
10.0
2.2
T2 (Three-phase 220V, 50/60Hz)
CDI-E100G0R4T2B
0.8
2.3
2.0
0.4
Standard Built-in
N/A
N/A
CDI-E100G0R75T2B
1.5
6
4.0
0.75
CDI-E100G1R5T2B
2.7
8.8
7.0
1.5
CDI-E100G2R2T2B
3.8
12.5
10.0
2.2
T4 (Three-phase 380V, 50/60Hz)
CDI-E100G0R75T4B
1.5
3.4
2.3
0.75
Standard Built-in
N/A
N/A
CDI-E100G1R5T4B
3.0
5.0
3.7
1.5
CDI-E100G2R2T4B
4.0
5.8
5.1
2.2
CDI-E100G3R7T4B
5.9
10.5
8.8
3.7
E180 Series
T4 (Three-phase 380V, 50/60Hz)
CDI-E180G0R75T4B
1.5
3.4
2.3
0.75
Standard Built-in
N/A
Optional
CDI-E180G1R5T4B
3
5.0
3.7
1.5
CDI-E180G2R2T4B
4
5.8
5.0
2.2
CDI-E180G3R7/P5R5T4B
5.9/8.5
10.5/15.5
8.8/13
3.7/5.5
CDI-E180G5R5MT4B
8.5
15.5
13
5.5
CDI-E180G5R5/P7R5T4B
8.5/11
15.5/20.5
13/17
5.5/7.5
CDI-E180G7R5/P011T4B
11/17
20.5/26
17/25
7.5/11
CDI-E180G011MT4B
17
26
25
11
CDI-E180G011/P015T4BL
17/21
26/35
25/32
11/15
Standard Built-in
CDI-E180G015/P018.5T4BL
21/24
35/38.5
32/37
15/18.5
CDI-E180G018.5/P022T4
24/30
38.5/46.5
37/45
18.5/22
Optional Built-in
Optional Built-in
CDI-E180G022/P030T4
30/40
46.5/62
45/60
22/30
CDI-E180G030/P037T4
40/50
62/76
60/75
30/37
CDI-E180G037/P045T4
50/60
76/92
75/90
37/45
Optional Built-out
CDI-E180G045/P055T4
60/72
92/113
90/110
45/55
CDI-E180G055/P075T4
72/100
113/157
110/152
55/75
CDI-E180G075/P093T4
100/116
157/180
152/176
75/93
Optional Built-out
CDI-E180G093/P110T4
116/138
180/214
167/210
93/110
CDI-E180G110/P132T4
138/167
214/256
210/253
110/132
CDI-E180G132/P160T4
167/200
256/305
253/300
132/160
CDI-E180G160/P185T4
200/224
305/344
300/340
160/185
CDI-E180G185/P200T4
224/250
344/383
340/380
185/200
CDI-E180G200/P220T4
250/276
383/425
380/420
200/220
Standard Built-in
CDI-E180G220/P250T4
276/316
425/484
420/480
220/250
CDI-E180G250/P280T4
316/355
484/543
480/540
250/280
CDI-E180G280/P315T4
355/395
543/605
540/600
280/315
CDI-E180G315/P355T4
395/447
605/683
600/680
315/355
CDI-E180G355/P375T4
447/467
683/714
680/710
355/375
CDI-E180G375/P400T4
467/494
714/753
710/750
375/400
CDI-E180G400/P500T4
494/612
753/934
750/930
400/500
CDI-E180G500/P630T4
612/790
934/1206
930/1200
500/630
CDI-E180G630T4
790
1206
1200
630
\ nSpécification technique de l'inverseur de fréquence de la série E
 
Item
Specifications
Control
Control method
V/F control
Vector control SVC
Vector control VC    Invalid for E100/E102 series
Frequency accuracy
Digital value 0.02%
Analogue value 0.1%
V/F curve
Linear   Squareroot   Any V/F
Overload capacity
G type machine: 150% rated current 60s;  180% rated current 3s
P type machine: 120% rated current 60s;  150% rated current 3s
Starting torque
G type machine: 0.5Hz/150% SVC; 0Hz/180% VC
Speed regulation scope
1:100 SVC
1:1000 SVC
Speed stabilizing scope
0.5% SVC
0.02%
Torque control precision
5% VC
Torque compensation
Manual torque compensation 0.10% 30.0% Automatic torque compensation
Operation mode
Keyboard, terminal, RS 485 communication
Functions of basic type
Frequency source
14 types of main frequency sources, 14 types of auxiliary frequency sources. Combined switching-over in multiple ways are available. Diversified input method of frequency source, keyboard potentiometer, external analog quantity, digital set point, pulse frequency, multi-speed, simple PLC, communication, operation results.
Torque source
14 types of torque source, including digital set point, external analog quantity, pulse set point, multi-stage instructions, communication, operation results.
Time of ACC/DEC
4 groups of straight lines, switchable by means of time of ACC/DEC, S curve 1, S curve 2
Emergency shut down
Stop the output of the frequency inverter suddenly
Multi-speed
It may set 16 speeds maximally, which may be switched by means of multi instruction terminals.
Simple PLC function
It may set 16 speeds, and the deceleration time, operation time and frequency source may be set independently.
Jogging control
The jogging frequency and jogging time of ACC/DEC may be set independently, and it may also set the preference to jogging under operation status.
Speed tracking
The load speed tracked by the frequency inverter is started.
Fixed-length, fixed-distance control
It may realize the fixed-length and fixed-distance control by the pulse input.
Counting control
It may realize the counting function by the pulse input.
Swinging control
It may be applied for the winding equipment of textiles.
Built-in PID
It may realize SVC.
AVR function
It may ensure the output of constancy in voltage fluctuation of network.
DC brake
It may stop the machine steadily and quickly.
Slip compensation
It is to compensate the slip deviation caused by increased load.
Hopping frequency
It is to prevent the resonance with load.
Dropping function
It is to balance the several motors with the same load.
Timing control
The frequency inverter may stop working after the given time.
Spécifications techniques de l'inverseur de fréquence de la série E
 
Item
Specification
Functions of enhanced type
Built-in virtual delay timer
It may conduct simple logic programming for multi-functional output terminals and digital input terminals; therefore, it may be considered as equivalent to the digital input terminal and may realize output via multi-functional output terminal.
Built-in timer
It has 2 built-in timers to collect input timing signals and then output the signals.
Those timers may be used together or independently.
Built-in operation module
It has 1 quad operation module and may conduct simple addition, subtraction, multiplication, division, judgment of size and integral operations.
Communication
E100
The control panel has RS 485 communication interface and it supports MODBUS protocol.
E102/E180
The control panel has no RS communication interface and shall be installed with an external communication expansion card.
It supports standard MODBUS protocol and may be installed with MODBUS communication expansion card.
Encoder
E100
It may connect to the encoder via DI5 and DI6 terminals on the control panel. Such connection may realize SVC easily via PID control and may be applied to those requiring lower control precision.
E180
Since the control panel has no encoder interface, it shall be installed with an expansion card. It supports ABZ incremental encoder, UVW incremental encoder and rotary transformers. Such connection may realize high performance VC and may be applied for those requiring higher control precision.
Type of motor
E100/E102
It can only drive the asynchronous motor
E180
It may drive the asynchronous motor and the synchronous motor.
Display
Operation information
Given frequency, output frequency, output voltage, bus voltage, input signal, feedback value, modular temperature, output frequency, synchronous speed of motor. It may show 32 information by use of >> key.
Error information
It may save the 3 failure information with frequency, current, bus voltage, output/input terminal status when failed under failure protection status.
Protection
Frequency inverter protection
It may protect the equipment against over current, over voltage, modular failure, under voltage, over heat, over load, external failure, EEPROM failure protection, grounding protecting and default phase.
Alarm of frequency inverter
It may protect the equipment and send over-load alarm
Instant power down
It may keep running in the case of lower than 15 ms.
It may be restarted automatically in the case of larger than 15 ms.
Environment
Ambient temperature
-10~40
Storage temperature
-10~40
Ambient humidity
90% RH maximally, non-condensing
Height/vibration
Lower than 1000m, 0.6g
Place of application
No etchant gas, inflammable gas, oil mist or dust.
 
Cooling method
Forced cooling
\ nAvantages: \ n1. "Haute précision", "haute performance", "haute rentabilité". \ NPour satisfaire les exigences de plus en plus élevées sur la production industrielle de variateurs de fréquence, Hangzhou Delixi développe un nouvel onduleur de fréquence série E répondant aux exigences du marché. Par rapport aux anciens variateurs de fréquence, sa précision et ses performances sont considérablement améliorées en plus de sa structure et de son apparence optimisées. Sa puissante fonction intégrée peut mieux répondre aux besoins des différentes industries. \ N \ n2. Précision de contrôle élevée \ nRéglage de la vitesse de rotation \ n1: 100 (SVC) 1: 1000 (VC) \ nVitesse stabilisante \ n0.5% (SVC) 0.02% (VC) \ nPrécision du contrôle de la vitesse \ n5% (VC \ n \ n3 Réponse rapide du couple \ nSVC: réponse au couple
Groupes de Produits : Inverseur de fréquence